Community
We recognise the potentially significant impact that our business has on the communities in which we operate. We strive to empower these communities by investing in programmes that help the long-term sustainable development of the community, its people, and the local economy.
We were also pleased to be awarded first place at the 2022 International Mineral and Mining Investment Conference for Outstanding Performance in 2021 CSR Projects in Tanzania.
Our goal is to leave a lasting, sustainable legacy for future generations so that even when mining activities have ceased, the regions we have impacted can continue to prosper.
Our approach
We understand the complexities involved in developing schemes that have a meaningful impact and the risks involved in investing without a coherent strategy.
Therefore, our approach is to use our community engagement channels to develop successful and mutually beneficial relationships by identifying and developing the key projects that will deliver the greatest impact. While we fund projects where needed, a core objective of our overall strategy is to engage in capacity building for the local populations to promote self-sustaining development.
By working with the community in this way our goal is also to ensure the viability and durability of any development projects we introduce. It is our aim that communities will take ownership of the projects we support, allowing benefits to accrue long after we have ceased mining operations. Our Social Management Plan ("SMP") acts as a framework for how we approach the management of community issues and mitigate any potentially harmful impact from our operations.
The Community Development Plan commits to Shanta developing annual projects that deliver sustainable benefits to nearby communities, while our Stakeholder Engagement Plan's purpose is to identify Shanta's stakeholders, determine their impact on our business and then tailor engagement strategies to each group of stakeholders.
We have robust grievance and dispute mechanisms in place to allow community members to raise any concerns or complaints, with our preference in the first instance to look for an amicable resolution between Shanta and the aggrieved party before involving any third party.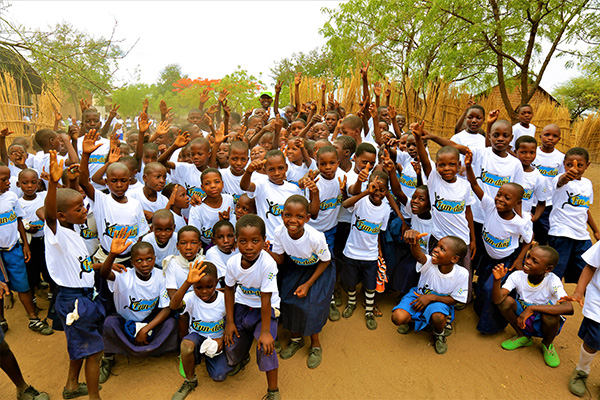 How we determine which projects to support
Shanta's community investment programmes in Tanzania and Kenya are developed through the implementation of community initiatives that are devised with the direct engagement of key community and regional stakeholders.
In addition to the wider regional investment projects that we support, Water, Education, Livelihood and Health continue to represent the core pillars of Shanta's approach to community investment, and the projects we support are aligned with each of these. We are focused on adding business value beyond the financial contributions made through tax and royalty payments.
Our Stories
Livelihood
Shanta has supported a range of livelihood programmes to support and grow the economic prospects of our local communities.
Our Saza Village Beekeepers group has continued to be supported by Shanta, and in 2021 we funded a honey processing plant to increase the volumes of raw honey able to be processed. Shanta also invested in equipment (harvesting gear and replacing worn-out hives) and organised training on beehive inspection, honey harvesting and marketing for 50 beekeepers.
At West Kenya, in partnership with KK Security Kenya Ltd, Shanta has supported security guard training costs for 100 unemployed local youth from our project area. In a highly successful outcome, all these individuals have subsequently been offered formal employment as a security guard
Supporting Local Farmers in Songwe
Farmers in Songwe can face significant challenges, with inadequate food crops making it a struggle to guarantee a self-sufficient food supply or meaningful income from agriculture outside of harvesting season. This has in the past led to a reliance on dangerous and illegal artisanal mining to supplement income.
Since 2016 Shanta has been working with local farmers near New Luika to develop modern farming methods as part of our community investment work, with three core aims:
To introduce modern farming methods to mitigate hunger (from traditional agricultural methods and poor quality or repeated use of seeds) and avoid resorting to dangerous and illegal artisanal mining used to generate cash to buy food.
To introduce commercial crops which grow well in the community areas and find markets for the crop.
To form Agriculture Market Cooperative Societies (AMCOS) that unite farmers and create centres for all activities related to improving commercial farming and farmer livelihoods.
Over several seasons we have grown our Mining Agriculture Improvement Program ("SMAP"), and the number of farmers engaged with our agricultural schemes has risen from 350 in 2017 to more than 2,000 in 2021.
During the scheme, we have engaged with experts from the Export Trading Group ("ETG") and met with officials from the District Commissioner, District Executive Director and District Agriculture, Cooperative and Marketing Officers to go through each village and obtain details of all farming activities, and the food or commercial crops that grow well in their area.
From engaging with local farmers, sesame was chosen as the preferred commercial crop to focus on which would have a ready market to grow. We have since worked with the ETG to provide expertise on farming and advice on how to market harvested sesame. Shanta has also donated seeds, fertilizer, and insecticides, and employed a talented Agronomist who was previously with the ETG and has been driving our agricultural work with the communities since then, proving a great asset to local farmers and Shanta.
In 2021 Shanta continued to support members of its programme, providing training and donating fertilizer and pesticides. In addition, the sesame harvest which was the result of several years' work with the community yielded 1,500,000 kg, which at a price of $1 per kilogram meant $1.5 million was distributed directly to the AMCOS as direct income to support the other needs of the farmers and their communities, including school, wellbeing, and family and medical needs. For the 2022 season, Shanta has added further investment in the programme to continue to benefit the region.
Education
For many years Shanta has been involved in various education projects, including infrastructure development within local communities, sponsoring underprivileged students, and expanding access to and education of Information and Communications Technology ("ICT") in the Songwe region.
Water
Water access is a challenge for many residents in the Songwe region which has unpredictable rainfall coupled with limited water infrastructure. We have historically supported projects which improve water infrastructure through work such as drilling boreholes, constructing pumps for existing wells, and building storage facilities in our villages.
Health
The prevalence of long-term health issues and the barriers to accessing quality health services is an ongoing problem for many in Kenya and Tanzania.
During 2021 Shanta was pleased to partner with PharmAccess Foundation and AMREF to support the Innovative Partnership for Universal Sustainable Healthcare (i-PUSH) project in West Kenya. The project aims to connect at least half a million Kenyans to the National Hospital Insurance Fund (NHIF), which provides medical insurance coverage to all its members.
Due to a lack of finances to meet even basic needs, combined with a perception that health cover is not an essential need, many families in our project areas are not enrolled in the NHIF scheme. The programme targets women of childbearing age, and once enrolled in i-PUSH they will have access to subsidised health cover for a year.
We made a financial contribution to the project by donating 25% of the first year's annual premium for 300 low-income women in our project area which triggers the remaining 75% contribution from i-PUSH. The result is that enrolled women and their families now have access to NHIF cover.