Environment
The Company has a long term vision of environmental stewardship particularly as an operator in Africa and has set up an Environmental Management Program that ensures the Company operates in line with local legislation. This means prioritising environmental risk mitigation prior to any initial exploration spanning through to a period subsequent to closure of mining activities. Shanta Gold has a very long term vision of environmental stewardship particularly as an operator in Africa.
We seek to progressively develop and maintain environmental management systems that are consistent with internationally recognised standards. These processes and systems are adopted internally from senior management across all employee levels. We seek to maintain operations that limit their environmental footprint. We are striving to increase our self-sufficiency of food management through internal growing practices and consumption of foods (produce and meats) grown from local villages. We are striving to limit our waste impact through practices including composting and recycling. We believe that moving towards self-sufficiency is a long term process but starts with the adoption of best practices amongst our employees. We continually improve and regularly monitor, audit and review our environmental performance, including the reduction and prevention of impacts and more efficient use of resources.
We believe a strong culture towards environment stewardship is best complemented with self-monitoring review. We seek to exceed the minimum regulatory standards for our industry and set higher and stricter standards of our own which we continue to strive towards. We routinely monitor water, air, and soil quality. We mitigate the impact of our operations through to detailed mine closure and reclamation plans involving reforestation. We are building a modest nursery plantation for reforestation towards our final objective of minimising the impact of our operations on the environment.
Our Stories
Luika River Dam: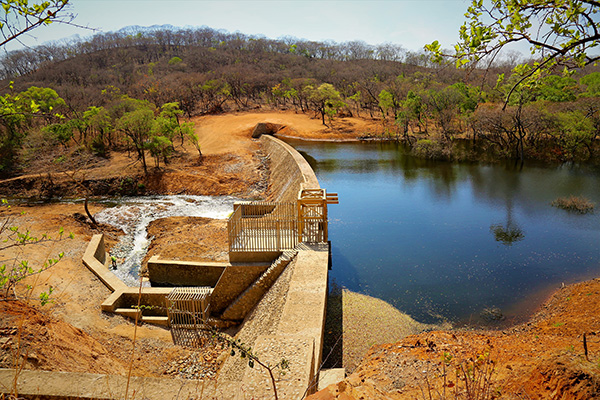 Designed by Stewart Scott Zimbabwe to provide a robust supply of water for New Luika Mine from the intermittent Luika River, the dam construction was planned in two phases. Phase 1 was completed in Q3 2016 in time for the wet season which allowed the dam to fill to capacity ensuring an adequate water supply during the Q3/Q4 2016 dry season. The dam is of a mass masonry construction, built from selected competent mine waste rock using local labour. Since the Luika River carries a substantial siltation load, the dam wall incorporates a specially designed 'Scour Valve' that will minimise siltation aggregation in the storage basin.
With a wall height of ~12m and a capacity of 350,000 cubic metres phase 1 provides sufficient water for the present mine demand. The mine water requirement from external sources is forecast to decrease during the next few years as water becomes available due to seepage into the deeper underground operations. Conversely demand will increase should process plant capacity increase and approval be granted for a scheme to provide water to the local community. In this event and so as to mitigate possible reduction in storage capacity due to siltation, the dam has been designed to allow the capacity to be increased to circa 1.7 million cubic metres by increasing the height of the masonry wall.
Hybrid Solar Power Plant:
A 63kW solar photovoltaic pilot power plant has been operating successfully for over two years at Shanta Gold's New Luika Mine. Supplied by Redavia, the plant is connected to the mine's island grid and operates automatically in a hybrid mode in conjunction with a rented 4.8MW Aggreko power plant. Average solar energy generation has amounted to ~80,000kWh per annum with a consequent saving of ~50 tonnes per annum of CO2 emissions.
Real time data has been collected from the hybrid power plant for use in a study for a full scale hybrid solar/heavy fuel oil power plant potentially offering much lower energy costs and lower fuel consumption than the conventional diesel power plants most frequently seen in mining operations. The modular solar PV system is fully scalable and has proven almost maintenance free, having required only bi-weekly de-dusting of the solar panels.